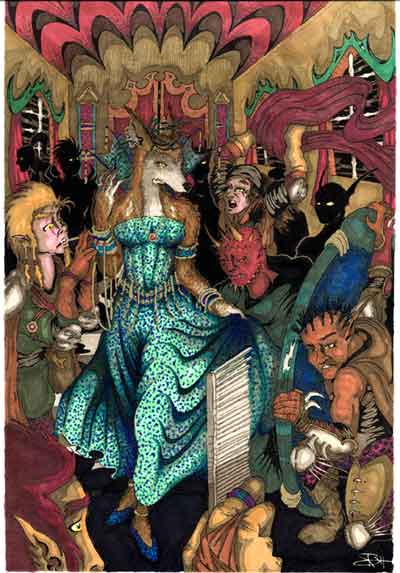 "The multiverse, she is a cruel mistress.  For much time, things have looked up for me.  But for so long, my luck is rather dreadful.  While my poems and records will be the stuff of legends, a break from this figurative and literal hells would be quite nice too!  I preferred my luck with just the King of the Cross-Trade in Sigil." – Ramon DeLeon, Planar Traveling Bard
Of Bards and Bad Places
While I assure you that not all planes are mortifying and deadly, I tend to have rather bad luck.  This luck has sunk even lower, finding myself in the dark planes of the fiends.  Races of creatures built from pure literal evil, formed into physical manifestations.  Only the most noble and just and survive a trek into these wretched places.  As I can assure that I'm not, I have my work truly cut out for me.
Let us discuss The Lower Planes of the Great Wheel.  This is a place for not just creatures made of evil, but the most equally evil souls that find themselves punished or harvested for the creation of more fiends.  The most worthy petitioners even gain the chance to become fiends of their own!  To make matters more hostile, each plane has its own challenges within the environments themselves.  Acidic air, dueling erupting fissures, grey murk and more await the most intrepid and foolish of explorers.
Now, where do I fit into this?  A valid question!  An attempted escape from strange realities proved rather flawed.  My grasp on the planes is quite good, within my rules of reality.  Parallel versions of the Wheel has all sorts of alterations, to say the least.  With some level of luck, this is the "true reality", however escaping the Lower Planes proves to be far harder than expected.  Even any portals and keys that should work mysteriously fail.  Well, through narrowly dodging fiends and escaping hostile environments, I've found my way across the Planes Below.  Impossible as it may be, I find myself not too damaged by this.  But, a Planeswalker has already seen a lot, no?
Author's Note: I've been feeling a little down, so things have slowed a bit as a result.  Plus, I junked a previous post that I couldn't find myself completing, which slowed things down more.  My apologies.  Anyway, here is something I have been sitting on for a while.  My Look at the Planes have focused too much on Ramon flailing about and finding danger, rather than describing locations and happenings in the planes, with Ramon as your guide.  Let me change that.  Also, I figure I may as well toss out a reference to the recent adventure.  In addition, plenty of references to classic D&D lore, as well as my own mad musings.