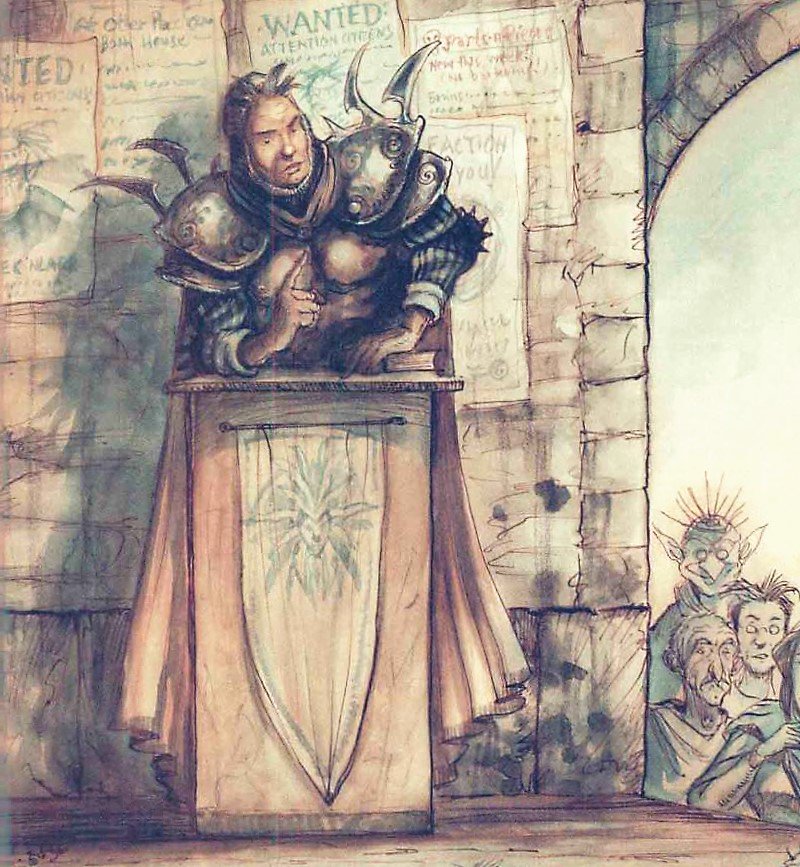 In which we explore most horrific occurrences and rather surreal surroundings within The City of Doors and beyond. 
But, who might I be?  Call me Garrick, a humble Tout at your service and former Guild of Planar Exploration member, depending who you ask.  But first, let's get away from that Hardhead speaker, yes?
You've given me more than a helping of jink, so if want The Chant…  I can help!  If you want the Real Dark of the Matter?  Well, best find a cloaked alley and keep your senses about.  The Cage is never a friend to its visitors, especially Prime-based folks such as yourselves.  But, that's why you have me.  Call me chummer?  Not so sure of that, but I owe you assistance and provide the work I shall.  Particularly juicy topics, that might cost extra.  But, I assure you, I have heard it all… and yet, here I am to tell you about them today.  Also, cough up more jink and I'll subdue The Cant… as best as I can.  Trust me, it'll make understanding me be a whole lot easier!
As for topics, I know plenty of things within the Cage and without.  Do you want to talk Inner Planes?  Perhaps planar misconceptions across various worlds?  Maybe a good conspiracy or two?  In all cases, I have plenty to spare.  Of course, such a business takes time and time costs.  You understand of course.  So, let us do commerce so I can share whatever it is you might need for your journeys.
Author's Note: This one is partially a shout-out to Mr. Welch!  I have, to an extent, enjoyed Mystara.  However, I never knew too much until I had the chance to delve deeper not only through carefully examining more books, but through his channel and chatting with him.  One of his recent teasers for a book, exploring the Knights of Ebony, helped to inspire this return to the planes!  Also, if you haven't checked out his channel, please do!  (He's one of the few gaming channels I openly recommend.)   Also, yes, I didn't just rewrite the newer planes, I just rewrote the internal logic of the 4e universe a bit… even if that means literally killing off aspects of it.  But, my focus was on making things work more for Planescape anyway… even an April Fool's Joke from ages back.  One can still sample those 4e locales and settings, but information here would supersede any conflicting details.  And as always, I bring plenty of pop culture references.

Continue reading "Quiet Ramblings and Sinister Tidings – A Return to Planescape"