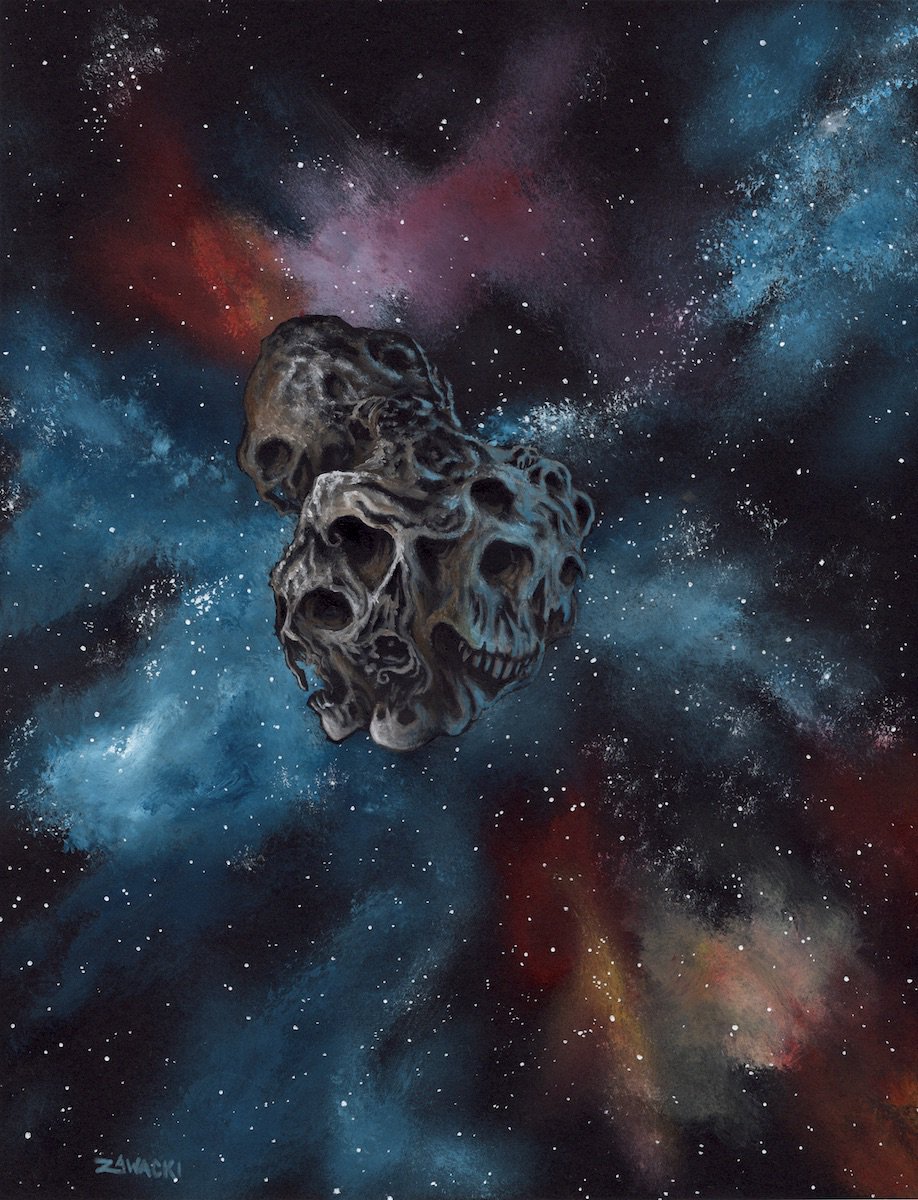 Fantastical Space would be one of the last things people associate the Demiplane of Dread with, but it exists even there.  The recently discovered "Castle Darkspace" is a testament to that.  While T'laan stews and broods in nihilistic apathy, he knows that it's possible to break the veil into greater space.  But, this is but a facade meant to give false hope.  And by all means, others who have touched a Spelljammer have fallen to the Dark Powers.  Even the maligned and much ignored "Port Barmy" has its roots in a Spelljammer ship.  Save for the latter domain, all things Spelljammer have found their way into a unique "Cluster" or rather "Mist Sphere".  The Mist Sphere works much like a Crystal Sphere, complete with Wildspace connecting the worlds.  However, there is no true world, solely the domain and lands trailing off into mists.  However, they can be accessed by spelljamming.
Be warned though, for those who sail their incredible ships in this sphere cannot leave normally.  Trying to seek the Phlogistan has disastrous results.  Consistently, a spelljammer will explode upon impact.  Likewise, entering other domains and clusters beyond this one spells doom.  Doom already comes for all who dare to trifle with the mists.  As of 740, even arcane space (excluding the phlogiston beyond) was not immune.  Tower Darkspace was taken into the mists.  By 743, Rogerport and Gnomonia had joined.  Primordium Station was taken in 748 and The Chariot fell in 757.  By 758, these were no longer islands of terror.  The Mists unveiled that the spelljamming days of yore had returned, but with a dark twist.  A new Sphere of sorts revealed itself, but those within were very much trapped.  And worse, new locales and minor domains continued to appear, such as the Sparkling Halls in 759.  Perhaps the Arcane Space is doomed to fall to the Dark Powers in due time?
Author's Note: Spelljammer in the Mists! They said it couldn't be done, but I proved them wrong! Ahahahahah!  I know Ravenspace has been a thing for years, but here is my own take on a cluster in the style of a Crystal Sphere.  Also, there is plenty of opportunity to reference bits of space horror, such as System Shock!  Also, more Eberron crossover!  And even more crazy, Returned Blackmoor makes a cameo as a domain all its own.  Is it canon for my Threshold series?  Hard to say, but it's certainly a possible ending for it!  Also, Port Barmy remains a joke.  I have no plans to do much else with it, maybe I'll add it to here one day.

Continue reading "The Cluster Sphere: Spelljammer… in the Mists?"