The campaign pushed into the Grey Wastes themselves.  We were readied for countless fiends, all battling in the name of their dastardly causes.  We even were readied to control the sinister magics of the Night Hag.  But, something unexpected and foul caught many by surprise…  Aberrations formed and mutated through necromancy.  Surely, these beasts weren't native to the plane, but something brought them there.  Something perfected them.  The casualties within my own legions became astronomical, even with pushing the abominations back long enough. –  Lucien, an angel-blooded aasimar paladin, captain of The Indefatigable.
My series of planar monsters continues with a healthy mixture of folklore, pop culture and crazy custom creatures.  This time, a post devoted to horrible things to crawl up from the Lower Planes!  Fiends, hellish constructs, necromantic mind flayers, cursed souls and more!
Author's Note:  In addition to some more planar threats, I wanted to ramp things up a bit with some more out there experiments.  Also, shout out to Brynvalk for inspiring one of the scariest things I've ever heard of.  Also, I'm back to bringing in a fair number of fiends to horrify my mini-bestiaries!  I love making fiends!  Also, pardon the classic rock references.  But, it wouldn't be my first time.

Demon Hornet
What looks like a misshapen hornet buzzes and flies toward you.  The insect-like atrocity has two sets of eyes and a long, glowing red stinger that radiates an awful heat.  This bug-like abyssal creature is the result of demonic tampering with outside life.  A collaboration between greater demons and demon lords resulted in crafting new horrors inspired by the material, or at least some sort of corrupt analogue.
The Demon Hornet looks like an oversized red coloured hornet.  Its prong mouth has jutting spikes, small barbs create an almost fin-like protrusion reaching from its back  to the stinger.  These hornets form abyssal hives made of particularly fortified combs.  Despite similar activity to hornets of the mortal realm, they are still very much demons.  Even with fellow chaotic evil natives, all other creatures are attacked on sight.  A typical tactic, with allies, is performing mob tactics to completely obliterate the victim.  However, while alone, some will take their time to savor their victim's pain.
Plane of Origin: The Abyss – Without a doubt, these are born from foul magic of the plane.  Even their hives reek of fell power.  Their distaste for other life forms is more drastic against non-native outsiders and primers alike.  Besides being exceptionally territorial within the Abyss, many Hive Queens plot campaigns into other realms to infest as much as possible.
Small fiend (demon), chaotic evil
Armor Class 13
Hit Points 39 (7d6 + 14)
Speed 0 ft., fly 30 ft.
STR 12 (+1) DEX 17 (+3) CON 15 (+2) INT 6 (-3) WIS 13 (+1) CHA 9 (-1)
Saving Throws Strength +4
Damage Immunities fire, poison
Condition Immunities poisoned
Senses passive Perception 11
Languages abyssal
Challenge 3 (700 XP)
Hateful Dash.  The Demon Hornet may use its bonus action to take the Dash action, as long as it ends closer to an enemy.
Explosive Sting.  Should the Demon Hornet make a critical hit with its stinger (rolling a natural 20), the fire damage rolled is tripled, instead of doubled.
Fiery Body.  A creature that touches or hit the Demon Hornet with a melee attack takes 2 (1d4) fire damage.
Flyby.  The Demon Hornet doesn't provoke opportunity attacks when it flies out of an enemy's reach.
ACTIONS
Multiattack.  The Demonic Hornet may attack twice per round.
Burning Spit.  Ranged Weapon Attack: +6 to hit, range 30 ft., one target.  Hit: 4 (1d8) acid damage plus 4 (1d8) fire damage.
Stinger.  Melee Weapon Attack: +6 to hit, reach 10ft., one target.  Hit: 6 (1d6 + 3) piercing damage plus 5 (2d4) fire damage.
Matabiri (Sickly Demodand)
A sickly being of death, plague and horror.  Whether preying on visitors or spreading misfortune when summoned, this fell being enjoys only despair and illness.  In many ways, it is akin to the plague daemons and demon spawn of Pazuzu.  A large humanoid with sludgy features overtaking something that looks almost skeletal and humanoid in shape.

Plane of Origin: Carceri – From the toxic depths of the Othrys layer of Carceri, this seemingly unknown demodand lurks.  While it enjoys savaging tracking and slaying victims, it prefers a more subtle approach of stalking, tricking and luring its prey, in hopes of whittling them down to nothing.
Large fiend (demodand), neutral evil
Armor Class 16 (natural armor)
Hit Points 68 (8d10 + 24)
Speed 25 ft.
STR 21 (+5), DEX 18 (+4), CON 17 (+3), INT 14 (+2), WIS 15 (+2), CHR 16 (+3)
Damage Immunities acid, lightning, poison
Condition Immunities. frightened, poisoned
Senses.  Blindsight 120 ft.
Languages. Abyssal, Infernal (, Demodand)
Challenge. 6 (2,300 XP)
Human Disguise.  As an action, the Matabiri can change its shape into a medium-sized human-like form or back.  While in this form, its magical abilities are suppressed until it ends this ability.  Another creature can attempt a DC 16 Wisdom (Insight) check to see through the disguise.  Otherwise, the creature resembles a very unhealthy humanoid in this form.
Magic Resistance.  The Matabiri has advantage on all saving throws against magical effects and spells.
Magical Weapons.  The Matabiri's attacks count as magical, for purposes of weakness and resistance.
Trailing Refuse.  Around this spirit is a presence of entropy and despair.  All terrain within 20 ft. of the Matabiri counts as magical difficult terrain.  In addition, all creatures who start their turn or enter the field must make a DC 15 Constitution saving throw or take 9 (2d8) necrotic damage.
ACTIONS
Shot of Filth.  Ranged Weapon Attack.  +8 to hit, ranged 40 ft./80 ft., one target.  Hit: 13 (2d8 + 4) bludgeoning damage plus 7 (2d6) acid damage.  The target must also make a DC 15 Constitution saving throw.  Upon failure, they take an additional 7 (2d6) poison damage and suffer the poisoned condition until the end of their next turn.
Swamp Muck Slam.  Melee Weapon Attack.  +9 to hit, reach 5 ft., one target.  Hit: 16 (2d10 + 5) bludgeoning damage plus 13 (3d8) acid damage.
Wendigo, Lesser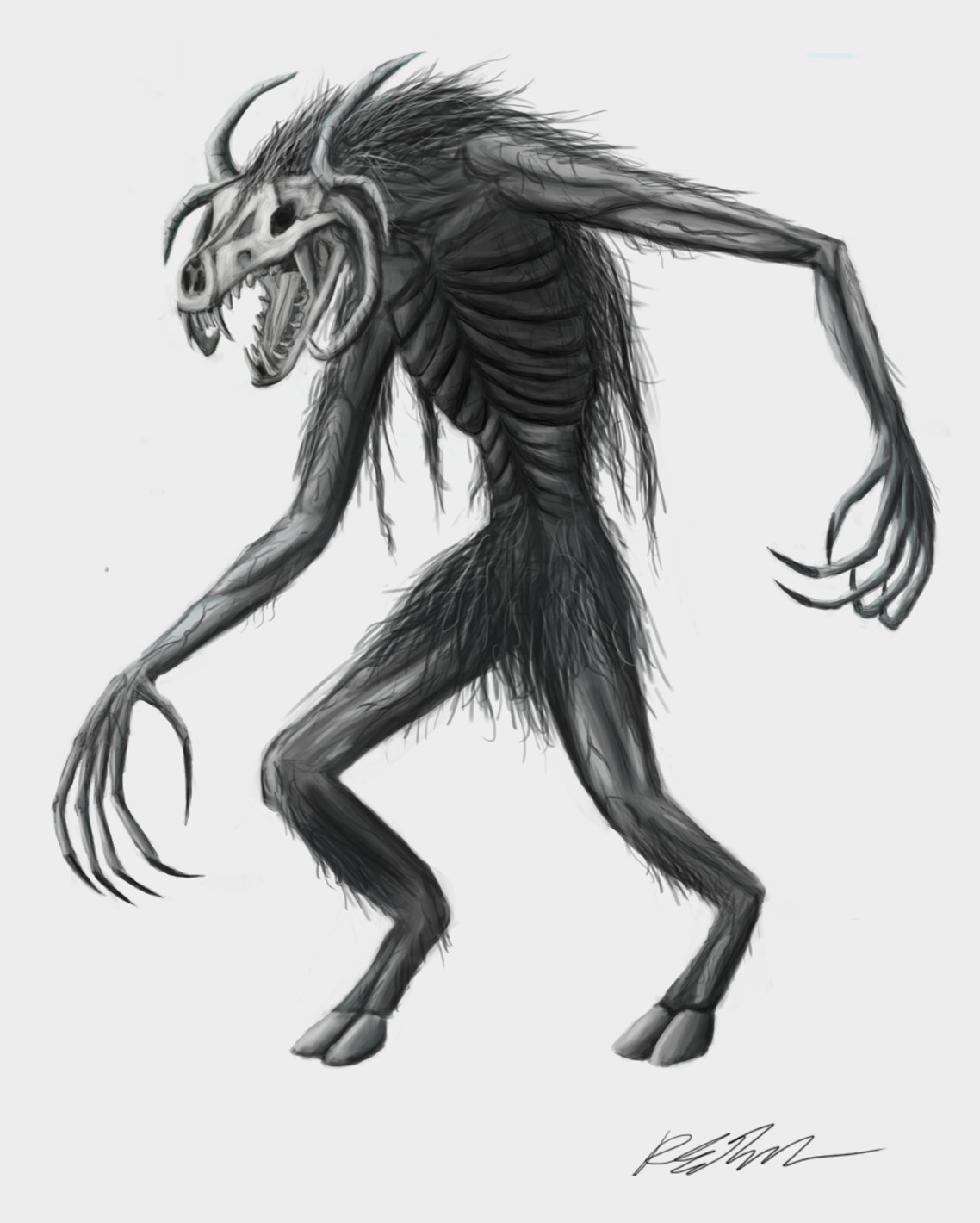 It's likely that this fallen soul was once a humanoid.  However, upon succumbing to the desire of cannibalism, a fell curse twisted it into a vicious monster.  When it doesn't hunt down the living, it serves the unseelie for all sorts of nefarious deeds, trapping and hunting travelers in its new home.
Plane of Origin: Prime Material/Pandemonium – This version of the wendigo is weaker than its "true" cousin.  However, it's still right at home in the howling void of Pandemonium.  Further empowered by the Unseelie Court, they act as a brutal defense as well as expert trackers.  It's said to be immune to the howling winds, due to its own similar abilities and pre-existing mania.  Due to an agreement with the Abyss, many have made their way to there as well.
Cursed Abomination.  The Wendigo must choose another humanoid species, it was this creature before becoming cursed.  This ability related to Consume Flesh as well as other potential opportunities.  Furthermore, the wendigo counts as both a fey and an undead creature.
Medium fey (undead), chaotic evil
Armor Class 15 (natural armor)
Hit Points 83 (11d8 + 33)
Speed 40 ft./ Hover 40 ft. (10ft. off the ground)
STR 19 (+4) DEX 14 (+2) CON 17 (+3) INT 6 (-2) WIS 15 (+2) CHA 7 (-2)
Saving Throws Dexterity +6, Intelligence +2, Charisma +2
Skills Acrobatics +6, Athletics +8, Intimidation +6, Perception +6, Stealth +6, Survival +6
Damage Resistances cold, lightning, necrotic, bludgeoning/piercing/slashing from non-magical weapons
Damage Immunities poison
Condition Immunities charmed, exhausted, frightened, paralyzed, poisoned
Senses Darkvision 120ft., passive Perception 16
Languages understands any it knew in life.
Challenge 8 (3,900 XP)
Acute Hunter.  The Wendigo can mimic voices of creatures it has heard in the last 24 hours, able to produce sounds and even speech patterns.  It can throw its voice up to 60ft. away from it.  In addition, checks utilizing smell and hearing (such as with Perception) are made with advantage.
Consume Flesh.  When the Wendigo kills a creature or encounters a corpse, it may also consume part of its flesh as well.  While adjacent to a corpse, the wendigo may use a bonus action or an action and regain 7 (2d6) hit points or 10 (3d6) hit points if the wendigo was the same species as the creature it's currently eating.
Mask of the Wild. The Wendigo can attempt hiding, even when it's lightly obscured by various natural phenomena such as foliage or weather patterns.
Lesser Wendigo Fever.  Any creature that is struck by one of the wendigo's unarmed attacks (bite or claw) must make a (DC 18) Constitution saving throw at the start of their next turn.  Upon failure, the victim gains the effects of the poisoned condition (this does not count as being "poisoned"), as well as gains a level of exhaustion next time they take a long rest.  While infected, they receive no benefits of a long rest.  The victim continues to accumulate exhaustion until it dies from it (or from another cause).  However, the victim may make a (DC 10) Nature check to realize that cannibalizing a creature of the same species as it will stave off the fever.  Upon feasting, the creature falls unconscious and slowly mutates into a ghoul NPC under the DM's control.  The victim cannot be awakened during this process.  In order to remove this illness, the wendigo that infected them must be killed.  Afterwards, they must receive a Greater Restoration spell or higher level of magic in order to get rid of it the rest of the way.
ACTIONS
Multiattack.  The Wendigo may attack with its Gore/Bite, Claw and Slam attacks 2 times per round.
Gore/Bite.  Melee Weapon Attack: +8 to hit, reach 10ft., one creature.  Hit: 10 (1d12 + 4) piercing plus 7 (2d6) cold damage.
Claws.  Melee Weapon Attack: +8 to hit, reach 10ft., one creature.  Hit: 11 (2d6 + 4) slashing plus 7 (2d6) cold damage.
Slam.  Melee Weapon Attack: +8 to hit, reach 10ft., one creature.  Hit: 11 (2d6 + 4) bludgeoning plus 7 (2d6) cold damage.
Wicked Roar (Recharge 4 – 6).  All creatures within 60ft. of the Wendigo must make a (DC 18) Wisdom saving throw.  Any creature that succeeds on the initial save is unaffected by this ability.  Any creature that fails is frightened and their speed is reduced to 0 for up to 1 minute.  However, the victim may attempt a new save at the end of their turn.  If the creature succeeds on their following save, they remain frightened for the duration, have their speed brought back to full and must use their movement leave the Wendigo's 60ft. area of influence.  If the target succeeds the initial saving throw, the duration has ended or the effect is cured; they are no longer affected and are immune to this ability for 24 hours.
Vanish into the Wind.  The Wendigo turns invisible until the end of its next turn or until it uses an attack action, as long as it's slightly concealed by natural phenomena.  It may also move 30ft.
Titan Rumbler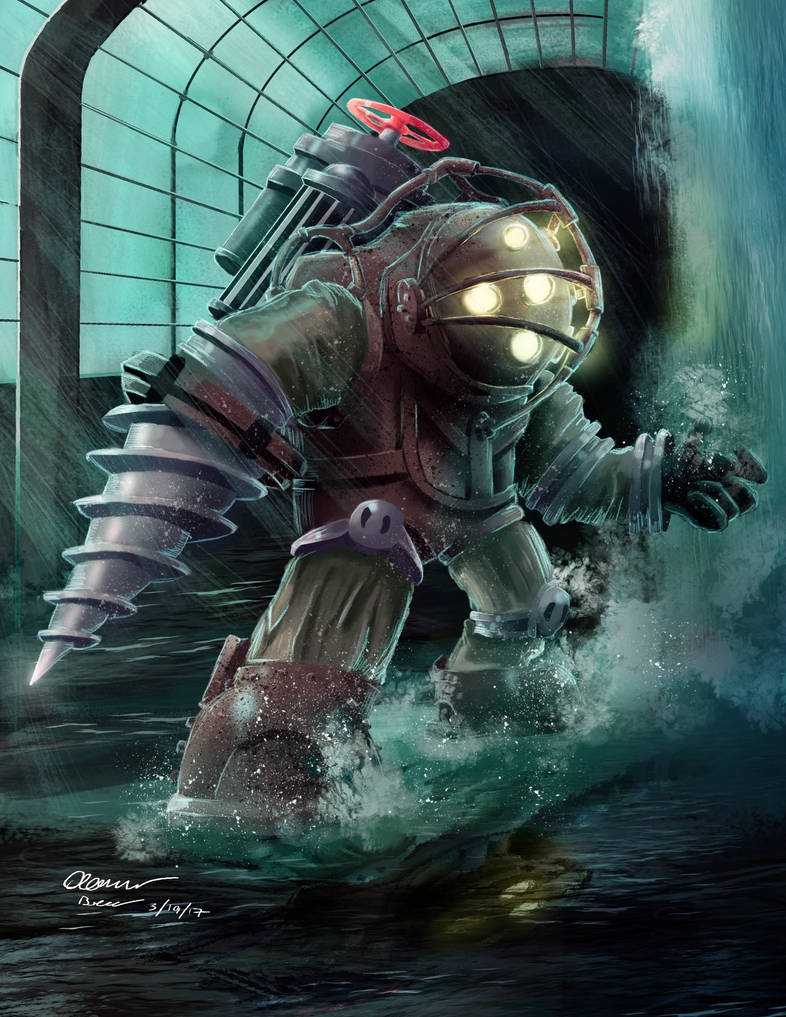 Bulky and mostly humanoid, these beings are confined to powerful metal suits.  At their core, they are slaves to horrible circumstance.  Their creators assure that they exist to help maintain the area around them, but they're still very much built for war.  Usually, the subjects themselves are too brainwashed to fully comprehend their horrible existence.
Plane of Origin: Acheron/Baator – Lost souls who've broken laws of strict societies.  Their punishment in the end is to become something less of themselves, but also to become something more.  The powers of the planes, along with top artifice, turn the victim into a hyper-obedient servant.  To the untrained observer, these creatures are just infernal constructs built for Blood War or endless Acheron conflicts.  At one point, the idea might have been used for utility and repair work (with an extra edge).  However, violence and hate have their ways of corrupting ideas.
Large humanoid (augmented), lawful evil
Armor Class 20 (natural armor)
Hit Points 95 (10d10 + 40)
Speed 30 ft.
STR 22 (+6) DEX 12 (+1) CON 19 (+4) INT 7 (-2) WIS 14 (+2) CHA 5 (-3)
Saving Throws Dexterity +4
Skills Athletics +9, Perception +5
Damage Resistance bludgeoning/piercing/slashing damage from non-magical weapons
Senses Darkvision 60 ft., passive Perception 15
Languages understands Common and Infernal
Challenge 6 (2,300 XP)
Drill Charge.  When the Rumbler moves at least 15 feet in a straight line toward a target, it may use a bonus action to Dash and make a single Drill Arm attack.  The subsequent Dexterity saving throw from that attack is made with disadvantage.
Slow to Notice, Quick to Provoke.  As long as you do nothing to directly threaten the Titan Rumbler, it will take no hostile action against you.  However, the slightest negative action towards it will instantly set it off.
ACTIONS
Drill Arm.  Melee Weapon Attack:  Melee Weapon Attack: +9 to hit, reach 10 ft., one target.  Hit: 22 (3d10 + 6) bludgeoning damage plus 11 (2d10) piercing damage.  The target must make a DC 17 Dexterity saving throw.  Upon failure, the target is pushed back 10 ft. and falls prone.
Impaling Drill.  Melee Weapon Attack: +9 to hit, reach 10 ft. , one target.  Hit: 25 (3d12 + 6) piercing damage.  The target must make a DC 17 Strength saving throw.  Upon failure, they become incapacitated and their speed is reduced to 0.  They also take an additional 10 (3d6) piercing damage at the start of their turn, as long as they remain incapacitated in this way.  While a target is stuck to the drill, the Rumbler cannot use its Impaling Drill attack.
Variant: Rivet Bolter.
A far more streamlined model, these beings are built up for dangerous tasks at range.
Decrease Strength to 19 (+4), increase Dexterity to 21 (+5)
Lose Dexterity saving throw bonus and Drill Charge.
Gain Multiattack.  The Rivet Bolter may attack three times per round with Rivet Gun.
Replace Drill Arm with Rivet Gun and Detonator Mine.

Rivet Gun.  Ranged Weapon Attack: +8 to hit, range 60 ft./120 ft., one target.  Hit: 12 (2d6 + 5) piercing damage.
Detonator Mine (Recharge 5 or 6).  Ranged Weapon Attack: DC 16 Dexterity saving throw, range 30 feet.  The Bolter throws a mine.  The mine remains inert until a creature makes contact with it, in which it detonates.  Every creature with 10 feet of the explosion takes 21 (6d6) fire damage or half on a successful save.
Variant Mind Flayer: Yu'ulithid
These mind flayers have a disturbing knack for psychic-based necromancy.  This is reflected by their ghoulish tone and sickly look.  In order to remain unseen among other mind flayers, many employ a variety of disguises.  Even during Ceremorphosis, they tend to favor zombifying their host before fully reshaping it.  Ironically, this process was started by a lone Illithid who sought out a less cruel way to propagate their kind.  The lone rebel fled from the empire before experimenting on a land of vast undead.  The experiments for "necro graft ceremorphosis" were failures at first, but taught the rogue illithid much about melding psionics and necromancy.
Eventually, he traveled to other crystal spheres, unleashing his hordes to find more subjects.  Among favorites were necromantic servants of the Lich-Queen.  Living subjects found themselves becoming mindless puppets as the process began.  As the body decayed, the illithid slowly consumed more of the shuffling corpse, growing and replacing parts with living matter.  In time, even bones were consumed and replaced before a darker breed of Mind Flayer was created.  The Yu'ulithid in turn killed their progenitor, to unsure their secret stayed.  Many mingle among regular mind flayers, in an effort to corrupt them into their own undead puppets.  This isn't to say that true Illithid tolerate such scourges, as they view them as corruptions of their own kind.  And secretly, the illithid fear the undead.  They are among the few creatures that they can't detect through psionics or directly use for their own deeds.  Their necromantic rivals are well aware of this.

Plane of Origin: Darkspace/Grey Wastes – A dark and empty crystal sphere, destroyed by the vampire known as "T'Laan".  Ages ago, the vampiric lord took hold of the world and drained it of life.  Ages later, a lone Mind Flayer took curiosity of the realm, harvesting the undead for experiments.  T'Laan quickly took notice, but it was already too late.  Many had fled to the most desolate place imaginable, The Grey Wastes of Hades.  Disinterested in the Blood War, most kept a low profile, while sending scouts to retrieve corpses from the battlefields.  Eventually, some discovered a gateway into a Prime, at the hands of a Plague Daemon interested in spreading the horrors of the Yu'ulithid.
Yu'ulithid shares the same stats as the Mind Flayer, with the following differences:
Damage Immunities necrotic, poison
Condition Immunities poisoned
Uncanny.  At initial glance, the creature looks like a typical Mind Flayer.  However, by performing a DC 15 Intelligence (Arcana) or Wisdom (Medicine) check, they seem sickly and tainted by necromantic magic.
Innate Spellcasting (Psionics).  The following are added:

At-will: animate dead, inflict wounds
1/day each: create undead, finger of death

Gain New Attack.

Death Touch. Melee Spell Attack: +7 to hit, reach 5ft., one target that is incapacitated or grappled.  Hit: 56 (8d12 + 4) necrotic damage.  The target's maximum hit points is reduced by the total damage taken.  This effect lasts until a long rest is completed.  Creatures reduced to 0 maximum hit points by this attack become undead under the Mind Flayer's control.  These creatures instead have 1 hit die.

Challenge 9 (5,000 XP)
Variant Nycaloth, Greater Nycaloth
While heralded as the elite soldiers and generals of the Yugoloth/Daemon army already, some go well above and beyond their call of duty.  These elite nycaloths are fiendish super-soldiers who prove to be truly destructive foes that prove that daemons are the physical incarnate of death and destruction itself!
Plane of Origin: The Grey Wastes/Gehenna – There's no doubt that most of the 'loths dwell in Gehenna in modern times, but a greater version of the Nycaloth is only comfortable on the fields of battle.  There, it loans its services to aiding whatever alliance is convenient at the time.  Other than that, they'll act as generals and war officials to help oversee and create strategies.  Of course, these strategies benefit the daemons/yugoloths first.
The Greater Nycaloth shares the stats with its original incarnation, with the following changes:
Increase Hit Points to 143 (15d10 + 60)
Increase Armor Class to 20 (Natural Armor)
Increase Proficiency from +3 to +4
Change Multiattack.  The Nycaloth may now make two melee attacks and teleport before or after an attack or make up to three melee attacks per round.
Grant Aggressive.  The Nycaloth can use a bonus action to move its land speed up to a hostile creature it can see.
Challenge.  increase to 14 (11,500 XP)
IMAGE CREDITS: WOTC Team – Descent into Avernus Cover Art; Interplay/Obsidian – Giant Wasp (Fallout Tactics); GetsugaDanta – Daemon Prince of Nurgle; Robert Jordan – Wendigo; AaronDraws8 – Big Daddy Fanart; Jim Nelson – Vampire Mind Flayer; Thomas Baxa – Nycaloth